A groundbreaking project from the University of Melbourne has the potential to divert millions of old tyres from landfill and into permeable pavements for suburban streets, car parks, footpaths and bike paths.
Existing permeable pavements have been restricted to pedestrian use, as they are too flexible to support motor vehicles. However, this new material made from old tyres has the strength to be used in low-volume, light-traffic roads, according to project lead Dr Mahdi Disfani.
"Our initial experiments show that we can push this permeable pavement into low-volume traffic roads such as suburban lanes," Disfani said.
Before embarking on the pilot project, which included small-scale testing of the permeable pavement for car parks, bike paths, footpaths and low volume roads, Disfani and his team conducted experiments to adjust the ratios of rigid aggregate (rock) and soft aggregate (recycled tyres), and engineered the polyurethane (PU) binder so that flexibility and rigidity was optimised.
"The performance of permeable pavement comes from the ingredients: rock, tyre and binder. Our research shows that the binder plays an important role when it comes to carrying traffic, particularly when more waste tyre is added to the mix. Our focus is now on the binder," he said.
The PU binder in permeable pavement can be combined at room temperature, which is a lower energy process than heating up an asphalt bituminous binder to make conventional roads.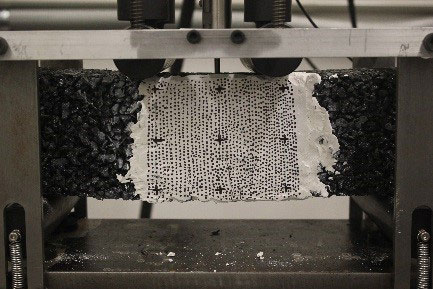 "We think this is an application where recycled tyres can enhance the performance of permeable pavements. We can use a large volume of old tyres and be cost effective," Disfani explained.
Increasing the percentage of recycled tyre material reduces the cost of permeable pavement, as recycled tyre is both cheaper by the tonne and lighter than the highly processed rock used as rigid aggregate. Disfani's project uses a high percentage (up to 50 per cent) of recycled tyre material to replace more of the rigid aggregate in permeable pavements than in existing materials. This makes pavements containing a higher percentage of used tyre material more economical per square metre of surface area.
Another feature of permeable pavements is to allow water to filter through the surface and reduce flooding and water pollution caused by stormwater runoff. Over time, rubbish and sediment can accumulate on the pavement's surface, reducing its permeability.
The project used vacuum and pressure wash techniques to reduce blockages, which had a positive effect on performance. The pavement has also shown good skid resistance during the initial trial, which began early this year.
Although it is not currently a focus of this project, Disfani said that making a permeable pavement strong enough for high-volume roads such as major arterials would be "challenging but not impossible", and would require a stronger rigid aggregate and re-engineered binder to carry the heavier loads.
Around 51 million used tyres are disposed of in Australia each year, with only 5 per cent recycled locally. The remaining tyres are sent to landfills, exported to be used as fuel, stockpiled or dumped illegally. Large stockpiles of tyres are an environmental and fire risk, and can burn for months if ignited.
According to Disfani, who has a particular interest in geotechnical engineering applications that use recycled materials, Australia is behind the rest of the world in this area.
"There is still a long way to go in comparison to the US, UK and even some developing countries," he said.
Disfani and his team will work with sponsors Tyre Stewardship Australia (TSA) and Merlin Site Services to find suitable sites to conduct large-scale testing of the permeable pavement under pedestrian, bicycle and vehicle loads.
"We would welcome stakeholders such as local councils, water authorities, road authorities and large residential developers who are interested in partnering for a larger-sized trial," Disfani said.