An innovative 'lab-on-a-chip' could make diagnosing illnesses safe, reliable and cheap in areas that lack clinics and diagnostic equipment.
A US-based multidisciplinary team of electrical engineers, bioengineers and mathematicians developed a lab-on-a-chip that can be mounted on a credit card-sized carrier and read by the camera on an ordinary smartphone for quickly diagnosing illnesses from blood and sputum samples.
Results are indicated with a green fluorescence that can be read by the phone's camera, and phone software collects test and patient information, which it uploads with test results to a cloud server.
According to the World Health Organisation, the top two causes of death in low-income economies in 2015 were lower respiratory disease and diarrhoeal diseases. David Nash, a respiratory disease specialist on the development team, said that this project is a game changer.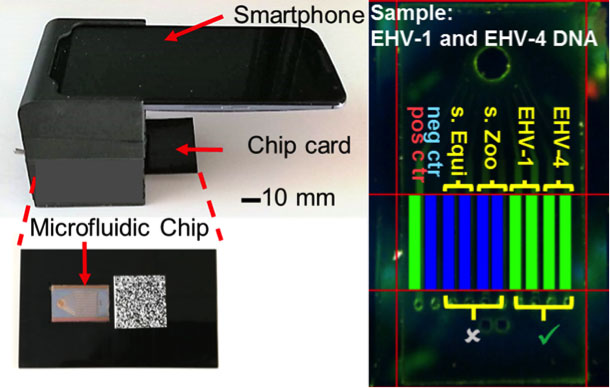 "This is the future of medicine: empowered front-line healthcare professionals. We can't stop viruses and bacteria, but we can diagnose them more quickly," he said.
"We were able to demonstrate the clear benefit to humankind, as well as to animals, during the proposal phase of the project, and our results have proved our premise. Next, I want to go into the field, multiple sites, multiple geographic locations and test in real-world situations."
Nash also said the multidisciplinary team was key to the project's success.
"I can't envision going into a project without engineers now," he said.
The project team have designed the chip to differentiate between viruses, ensuring that the correct diagnosis and treatment are given to patients. In papers in Biomedical Devices, they published case studies of the chip diagnosing three mosquito-borne viruses: Dengue fever, Zika and Chikungunya. These diseases present similar symptoms but require different treatments.
The chip has also been tested on animals, particularly horses, which has potential to benefit the equine industry.