Air Vice-Marshal Leigh Gordon, head of the Joint Strike Fighter jets project for the Royal Australian Air Force, talks about the program and the benefits it is bringing to high-tech manufacturing.
The Joint Strike Fighter (JSF) is described as a fifth-generation aircraft, meaning it features stealth capacity and advanced sensors, as well as networking and data fusion capabilities.
Known more formally as the F-35A Lightning II, it was designed and is being assembled in the US by Lockheed Martin.
The Royal Australian Air Force is in the process of purchasing 72 new F-35s to replace their 30-year-old F/A-18 Hornets and they will be based out of the RAAF base at Williamtown near Newcastle and RAAF Tindal near Katherine.
Air Vice-Marshal Leigh Gordon works for the Capability Acquisition and Sustainment Group (CASG) and is responsible for buying the JSF and establishing a system to support it in service. He says two of the Australian aircraft have been built and are currently being tested at Luke Air Force Base near Phoenix in Arizona.
"They are forming part of what is a growing, and will be a huge, training base where a significant proportion of the world's F-35 pilots will be trained over the next couple of years. We've got four pilots there at the moment," Gordon said.
"In about 2018, two of those aircraft will come back to Australia, and we will start doing the testing and the development that we need to do to set up that training capability in Australia."
Gordon expects to have an initial operating capability in 2020, and a final operating capability a couple of years after that, by which time, the RAAF will be in a position to retire all of its classic Hornets fighter jets.
From an engineering perspective, he says there is a RAAF engineer on the ground at Luke now, and the first of its initial maintenance workforce will start training there shortly.
"Indeed, the senior engineering officer and the warrant officer engineer of the first squadron, No. 3 Squadron, has recently been over there on one of their reconnaissance trips," he said.
"They are going to go back with a group of Australian maintainers who will start learning about the F-35 at the Luke Air Force Base."
Local benefits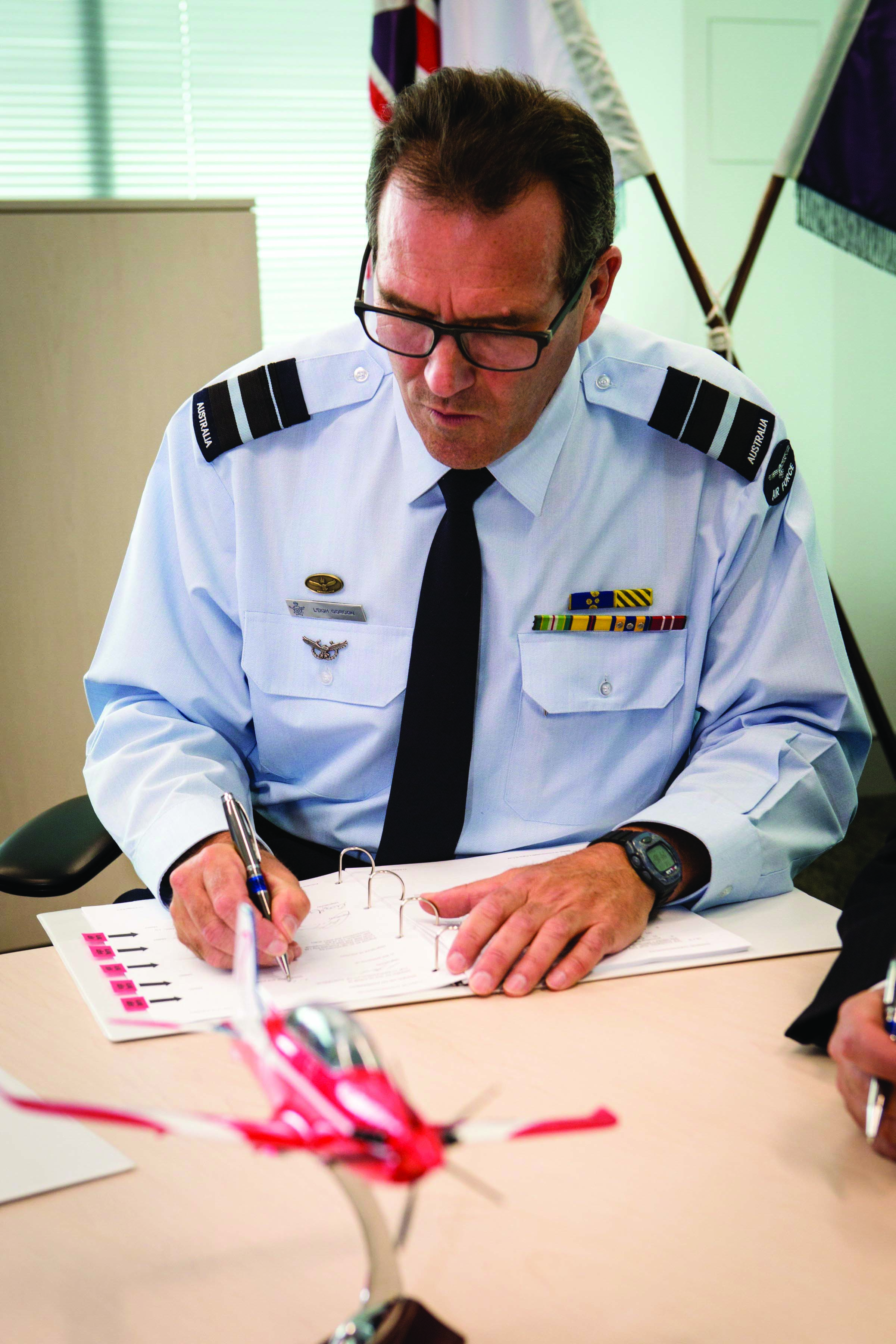 The plane has been under development since the early 1990s, and Gordon said Australia joined the international cooperative program in 2002, which allowed military people to get involved in the program, but also Australian industry to tender for jobs on the JSF through the JSF Australian Industry Involvement Program.
"Indeed, Australian industry was involved in designing elements of the Joint Strike Fighter, and its systems from those early days," said Gordon.
"A lot of it is really at the component and support system level, but it is genuine design leading into the product."
Adacel in Melbourne is supplying speech recognition software allowing the pilot to talk to the aircraft. Brisbane-based Ferra is manufacturing and integrating high technology aerospace sub-assemblies for the project. Goodrich Australia in Sydney is manufacturing actuators for landing gear, bay doors and utility access. Adelaide's Levett Engineering is producing components for the Pratt & Whitney engines that will power the aircraft.
Lovitt Technologies in Melbourne is supplying machined longeron assemblies for the aircraft's keel. Sydney-based Quickstep is supplying carbon fibre composite skins and sub-assemblies. Rockwell Collins in Melbourne is making optical assemblies which help the planes track other aircraft and missiles around it. Tasman Aviation Enterprises in Brisbane is supplying advanced liquid-cooled electronics enclosures.
BAE Systems Australia has a number of roles on the project and was recently appointed the F-35A Airframe Maintenance, Repair, Overhaul and Upgrade provider for the Southern Pacific Regional Depot, which will be based at Williamtown. The company is also making titanium components for the F-35A tail at its Adelaide plant, which are then being assembled by Marand Precision Engineering in Melbourne.
Gordon said one of the project's broad goals was to establish a capability within Australian industry that was to the benefit of Australian industry, and would help support the aircraft in service.
"We've got a dedicated effort occurring to help Australian industry to work with the overseas equipment manufacturers to ensure that they can capitalise on opportunity. That's the real benefit of us making that decision to join the cooperative program back in 2002, and I believe that it is a far more effective program of industry engagement than a simple offset program that we might have done in the past," he said.
Even though the decision to enter the program was well in advance of the major car manufacturers Ford, Holden and Toyota deciding to shut down their Australian operations, Gordon says a number of the companies currently working in the JSF program had their beginnings in that industry.
"They were agile enough to be able to adapt to this work quite rapidly," he said.
"We need to look at opportunities where we can genuinely add value and the higher end levels of manufacturing is an area where Australia can add that value."
He also feels that the skills being developed in these organisations will provide opportunities for these companies when contracting for other defence projects and also high-tech, high-value added manufacturing in areas beyond defence.
"There are opportunities for these companies not just in the aerospace sector, but in other Defence sectors, and indeed, in other areas of capability development not just military," Gordon said.
Engineering in the Air Force
Even after 34 years in the RAAF, Gordon still finds it an exciting place to work, with some of the work at the absolute cutting edge of technology. He highlights the P-8 Poseidon, which is replacing the Orion and the Triton unmanned aerial vehicles; the Growler, which provides a new electronic attack capability to Defence; and the Wedgetail, an airborne early warning and control aeroplane.
"We've got young engineers and technologists working and contributing to what really is quite a transformational change," Gordon said.
"It's not just the technology. There is a real leadership and cultural piece in this, which I think can be particularly rewarding for the junior officers and the airmen to be involved."
Embedded in the JSF program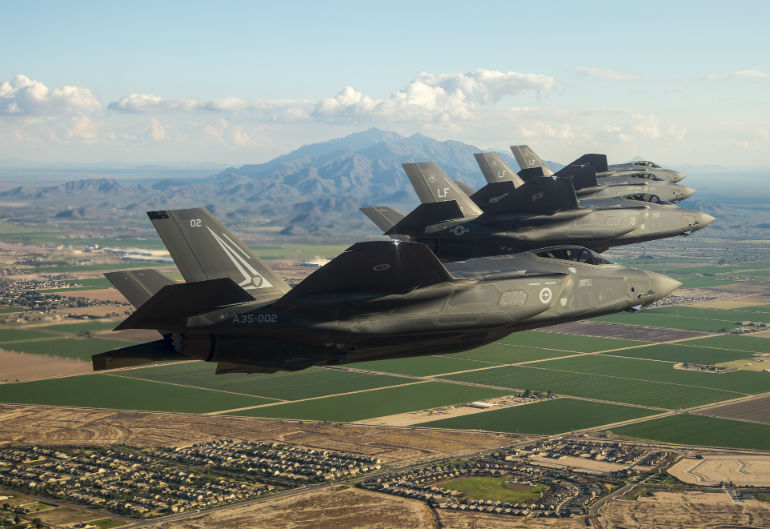 "In essence, we provide the capability that turns the F-35 from a legacy platform to a true fifth-generation fighter," Stonestreet said.
She added that the role is an amazing opportunity and things there is probably no other program out there that gives you the same experience.
"Managing the technical aspects of my program alone would be a career-defining experience," she said.
"But managing the program in an international acquisition environment, and the ever-present political dimension that comes with a program like the F-35, and you're working in your very own master class in complex program management."
From Dubbo in the central-west of NSW, Stonestreet studied at ANU and UNSW through the Australian Defence Force Academy (ADFA).
"Not only do I get a chance to make a real difference to the future if Australian defence, I'm working on a leading-edge technical challenge that Australia has never had to deal with before," she said.
"That's really exciting because not only do I get to contribute to the delivery of the F-35 program, but I also help set the scene for all future projects."